On November 21, approximately 100 employees, including senior management from various Eisai subsidiaries worldwide, assembled at our global head office in Tokyo to participate in "hhc Initiative 2014."
hhc Initiative is an annual event that promotes and recognizes excellence in innovative activities based on our hhc corporate philosophy. Each year, the most outstanding initiatives are selected from a range of innovative projects by Eisai employees, covering diverse hhc-driven activities that aim to realize various contributions to patients, case reports and proposals submitted by internal applicants, and achievements of in-house R&D and production organizations that are deserving of special mention. The overall aim of the event is to increase the understanding of the importance of innovative initiatives that emphasize health care from the patients' perspective, and by sharing these results, promote further innovation.

This year's hhc Initiative featured presentations on a total of 19 innovative activity themes. Of these, we would like to highlight a selection of activities from India, Japan and Indonesia.
India: Successful Launch of High Quality DEC Tablets and Establishment of Stable Supplies
This theme consists of various activities aimed at elimination of lymphatic filariasis (LF) to work with WHO to supply Diethylcarbamazine citrate (DEC) 100mg tablets at price zero (free of charge) to LF endemic countries based on a declaration signed in November 2010. The team implemented a series of initiatives involving the supply of DEC to 11 countries around the world as of June 2014, such as development of pharmacologically and chemically stable DEC 100mg tablets, comparing existing drugs, securing credible suppliers which will be able to continuously provide active pharmaceutical ingredients of DEC tablets, and obtaining prequalification within only 10 months from submission.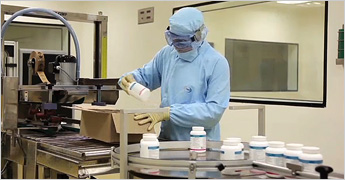 In addition, the team supported mass drug administration of DEC and conducted education of the disease aimed at prevention and treatment of LF in cooperation with the Andhra Pradesh state government. The team also contributed to improving the benefit for patients and ordinary citizens by educating them on diseases which are carried by mosquitoes, distributing a brochure which describes ways to prevent mosquito activity as well as mosquito nets, and holding an exhibition at a local high school on posters of the biology of mosquitoes, an apparatus to protect against mosquitoes, and samples of medicine.
Japan: Promoting Active Involvement and Better Understanding of Dementia Through Dementia Supporter Lectures and Practical Workshops Designed for Pharmacists
Eisai Japan has been implementing dementia training for pharmacies since 2011 based on observations made during home visits conducted by pharmacists who give medication guidance to elderly and dementia patients. The purpose of the training is to provide correct knowledge about dementia. Training covers strategies for dealing with dementia, and also includes video and discussion about handling particular scenarios at pharmacies. The team also proposed to insurance-based pharmacies and distributors that they become certified "Dementia Supporters" and obtained agreement from 29 companies. Furthermore, the team is cooperating with government authorities in local communities. Eisai Japan and two other companies in the same industry entered an agreement with Toyama City on April 10, 2014, to collaborate on developing a community where people with dementia will find it easy to live.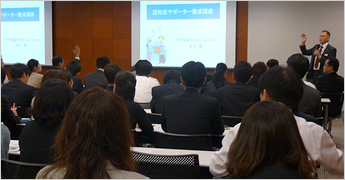 Indonesia: PTEI Supports Lymphatic Filariasis Elimination Program in Indonesia
Indonesia is also a country that is endemic to lymphatic filariasis, and mass drug administration (MDA) had been implemented using locally available DEC tablets. PTEI (Eisai Indonesia) discovered that the irregular supply of the abovementioned DEC tablets was hindering the smooth operation of Indonesia's MDA program. In response, PTEI coordinated with the internal and external parties involved, and the Ministry of Health made a request to WHO Indonesia for Eisai DEC tablets in April 2014. Finally, Eisai DEC tablets were used in the MDA program in December 2014. In the meantime, PTEI personnel are working to devise effective solutions to a range of issues discovered during socialization with patients and MDA support, such as the difficulty achieving thorough medication compliance, dealing with cases where the patient has other ailments and inadequate hygiene management.