In Spain, Eisai Farmacêutica S.A. is collaborating with the Asociación Española de Afectados por Epilepsia Grave (APEMSI) and other local organizations and has created a picture book, entitled "Epilepto, un amigo especial," that teaches children about epilepsy in an easy-to-understand way. The project began with the realization that for children with epilepsy to feel comfortable in their school environment and enjoy their day-to-day lives to the fullest, education about the disease is important not only for the children themselves but to their peers and schoolmates as well. Furthermore, recognizing that children with epilepsy for the most part possess the same cognitive function as other children, the book also focuses on the need to support children with epilepsy in leading full, barrier-free lives by encouraging independence rather than encouraging an overprotective attitude or lowering expectations in regard to their academic achievements.
"Epilepto, un amigo especial" is divided into three sections. The first section comprises a narrative in which Epilepto, the protagonist, talks about epilepsy and the nature of the disease. The second section summarizes basic advice on first aid in the event that an epileptic seizure occurs. The final section is a series of worksheets featuring characters from the story to color in and other activities for children to enjoy while learning valuable epilepsy-related information.
By reading the picture book and thus gaining an understanding of how children with epilepsy themselves may feel, their symptoms, and suitable first-aid precautions, children in general will be able to come to terms with epilepsy without feeling shocked or confused when witnessing a seizure or similar epilepsy-related incident. It is because the book deals with such issues that makes it so important: The book addresses the lack of information and knowledge on epilepsy that so often leads to uneasiness about the disease.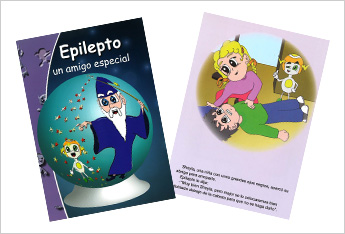 Eisai employees have been working to distribute "Epilepto, un amigo especial" throughout the Spanish autonomous community of Andalusia in order to promote the book's use by epilepsy clinics at public and private hospitals in each province as well as by epilepsy patient groups. Proactive efforts are also being made to expand the epilepsy awareness campaign by distributing the book to libraries at general schools in each province as well as introducing the book on Spain's National Epilepsy Day (May 24).
Through the publication of "Epilepto, un amigo especial," Eisai aims to contribute to providing the support needed to enable children, both those with epilepsy and their peers, to live life together enthusiastically while respecting one another as members of the school community and without special treatment that might create potential barriers for children with epilepsy.