For patients with cancer and their families, psychological support is as important as physical treatment. In particular, psycho-oncologists, who specialize in the psychological wellbeing of patients with cancer and their loved ones, play a significant role in improving the quality of life (QOL) of people living with the disease. In reality, however, patients with cancer and their families are often unable to articulate their fears and private concerns and may not have the confidence to openly approach a psycho-oncologist for consultation.
To address this issue, two German Eisai employees initiated the project of a daytrip to the Sea Life Munich aquarium in Munich, Germany for patients with metastatic breast cancer (mBC) and their children accompanied by a psycho-oncologist who was there to provide them specialist support for the day. The project was organized in cooperation with two clinics and was conceived based on the team members' own experiences concerning friends who had passed away due to cancer. One of the friends, after much grief and battling the disease into its final stages, was able to gain peace of mind after finally agreeing to seek out psycho-oncological support.
Although there are many clinics in Germany where psycho-oncological services are available, patients are often reluctant to seek out psycho-oncological assistance. For the majority of patients, this is often because they feel ashamed or initially believe they can manage on their own.
The purpose of this daytrip was to provide support for patients and their families living with breast cancer by reducing the barriers associated with seeking out psycho-oncological help and, in doing so, address family members' concerns while responding quickly and appropriately to the patient's psychological condition, such as anxiety and/or depression. Furthermore, many patients with breast cancer are also mothers of young children and there is a need to provide support to these children in such situations, as children can similarly find themselves overwhelmed by this new threat of cancer.
In October 2012, the daytrip took place at Sea Life Munich, with several patients with mBC and their children and a psycho-oncologist attending thanks to her hospital employer who supported this project. The participants were able to experience a fascinatingly different underwater world for the day, while the many kinds of fish, coral and other underwater creatures served to create a calm, relaxed and enjoyable atmosphere, which in turn helped to establish trust and encourage open conversation.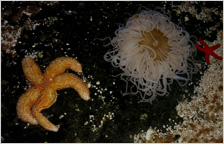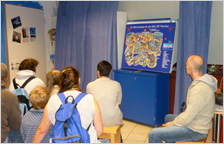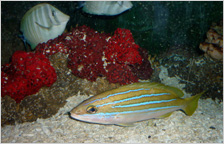 In addition to consultations with the psycho-oncologist, the patients were able to benefit from sharing their fears and concerns with other patients during the trip.
Through the project, the team hopes to make a contribution, however small, to improving the QOL of patients with breast cancer and their families.