One year and several months have already passed since the Great East Japan Earthquake. Although many affected regions already have temporary housing and medical facilities in place, there is said to be various communities that are still in the process of being rebuilt. Prior to March 11 last year, Eisai was already promoting the building of communities in which dementia patients could live safely and comfortably. The disaster, however, prompted us to recommit ourselves to work towards achieving this end.
As part of these efforts, we recently provided dementia patients and their families from the Motoyoshi district of Kesennuma City in Miyagi Prefecture with the opportunity to exchange experiences with each other and to receive advice directly from physicians, care managers, dementia care specialists and other experts on various issues, including how to recognize disease symptoms and how families and caregivers should interact with patients. Eisai MRs, not only help organize such events, they also participate in discussions and empathize with the feelings of patients and their families. This provides them with the chance to think about what they need to do aside from providing drug information and serves as a starting point for their future activities. By participating in this latest forum, Eisai MRs recognized the necessity of providing drug information to a wide range of relevant parties, including nurses and caregivers, in addition to physicians and pharmacists, and have already started to consider some concrete measures for doing so.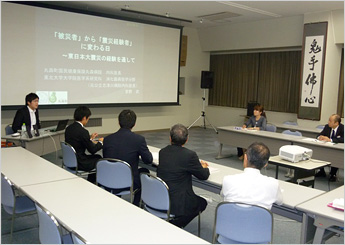 Participants were also fortunate to be able to hear directly from Dr. Takeshi Kanno (currently Head of Internal Medicine at the Marumori National Health Insurance Hospital in Marumori Town), who despite being affected by the earthquake and tsunami himself, stayed by the side of surviving patients for three days at the Shizugawa Public Hospital in the town of Minami Sanriku. Dr. Kanno was chosen as one of Time Magazine's 100 Most Influential People in 2011 and continues to speak out on behalf of those living in the affected areas. During his presentation, Dr. Kanno offered the following food for thought: "The journey we are taking to lift ourselves out of the deep despair we feel and recover spiritually and emotionally may in fact help people worldwide overcome whatever pain they may be enduring. We need people to think about what they themselves can do and to turn their ideas into action."
The disaster in the Tohoku region is still far from over. We must not forget the reality that reconstruction is still underway and must ensure we pass on our experiences to future generations.
Given Eisai's involvement with pharmaceuticals, the forum provided us with a good opportunity to think about exactly what kind of role we should play going forward, including how we should feel towards the affected areas and the kinds of activities we need to implement.