September 21 is World Alzheimer's Day. To mark this occasion, Eisai held a Dementia Supporter Training Seminar for approximately 40 employees who work at its headquarters office, the majority of which were from Demand Chain Systems, the department that handles production and distribution. Dementia Supporter Training Seminars are organized and promoted by the "Nationwide Caravan to Train One Million Dementia Supporters" as part of the Japanese Ministry of Health, Labour and Welfare's "Ten Year Nationwide Public Campaign to Understand Dementia and Build Community Networks."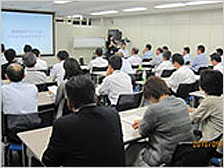 The workshop was led by an Eisai employee certified as a Dementia Supporter Training Seminar instructor who provided participants with a basic knowledge of dementia and offered advice on how to accurately understand the disease as well as ways to treat and show consideration for patients and their families so as to best support their needs. The instructor also introduced the dementia support initiatives taking place in Bunkyo-ku, Tokyo, the ward in which Eisai's headquarters office is located. After the workshop was over, the participants put on orange bracelets as a symbol of their commitment to supporting people with dementia and officially became Dementia Supporters.
Feedback received from employees who took part in the seminar was positive, with many participants stating that they had gained a new awareness of dementia and that they wanted to actively participate as Dementia Supporters in their own communities. They included "I learned about the emotional impact that illness has on patients and their families, the anxiety and resentment commonly felt by patients, and the importance of showing respect for the dignity of patients" and "Through the training, I learned that we should not focus solely on what dementia patients cannot do, but instead on how to interact with patients so as to expand their possibilities." Other participants commented "I learned that patients are the ones who experience the most frustration and sadness about their dementia symptoms, which provided me with a renewed awareness" and "I want to look into the kinds of activities taking place in my own community and find some kind of project to become involved with."
The training seminar provided Eisai employees with the opportunity to develop a deeper understanding of the importance of considering the feelings of patients and their families when interacting with patients directly. It also allowed participants to reaffirm their commitment to fulfilling their mission as employees of a pharmaceutical company through their daily work.