The Elderly Simulation Program is an exercise held by Eisai Co., Ltd. as part of its new employee training curriculum. 98 new recruits, who joined the company in FY2010, underwent this program on April 14.
In the Elderly Simulation Program, participants don special gear that simulate the lowered physical functions of an elderly person (between the ages of around 75 and 80) and enable them to experience age-related physical and psychological changes. The gear includes earplugs (to simulate age-associated hearing loss), special glasses (in place of cataracts and constriction of the visual field), ankle and wrist weights as well as elbow and knee supports (decreased muscle strength and stiff joints) and gloves (reduced manual dexterity).
Participants formed groups of 6 or 7 people and took turns playing the part of the pseudo-elderly. The 5 or 6 others in the group, meanwhile, experienced being a caregiver.
With the special glasses, newspaper print looked fuzzy when they tried to read, while the gloves made it difficult to grab change out of a wallet. They could not open an envelope that was taped shut either because they could not get the tape off. In such ways, the participants experienced firsthand how the daily life that they take for granted becomes increasingly difficult as one ages.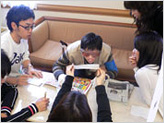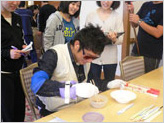 Eisai's objective in adopting the Elderly Simulation Program as part of new employee training is to enable new employees to understand the importance of taking the viewpoint of patients and the elderly. In other words, it is carried out to have them experience and realize, from the time that they are a fresh recruit, the importance of considering things from the other person's perspective when trying to understand them; that one needs to be caring and show concern for others as well as feel appreciation when others give you a helping hand. These form the basics of Eisai's human health care (hhc) philosophy.
The feedback received from participants included comments related to new realizations and feelings resulting from the Elderly Simulation Program. They included, "I realized that the burden experienced by patients and the elderly is much greater than I had imagined" and "The kindness of those offering me assistance made me happy, and so I want to become the kind of person who can extend a helping hand without being asked."
Eisai believes that by understanding the difficulties and frustrations of patients and the elderly firsthand, this experience will become the engine that will drive employees to want to create even better drugs that meet patients' needs and to make them available as quickly as possible. Eisai will continue to pursue hhc, its driving force, and use this program to foster the corporate culture and hhc mindset of "taking action while considering the perspectives of patients."