Eisai AB, an Eisai marketing subsidiary in Sweden, carries out wide-ranging educational activities related to epilepsy.
Epilepsy is a disease which is not fairly understood. In fact, it was discovered through discussions and interviews with clinicians, patients and patient organizations that even those who are involved with or suffering from epilepsy have very little knowledge of the disease or harbor misunderstandings. It was also found that many epilepsy patients feel tortured by their illness.
In order to provide support and establish "hope" for such patients, Eisai AB collaborated with epilepsy specialists and helped in the publication of "To Live with Epilepsy," a book which focuses on the daily lives of epilepsy patients. Book promotions featuring celebrities who themselves suffer from epilepsy were held, raising social awareness of the disease. On Epilepsy Day, events that provided a forum for discussion of epilepsy by patients, patients' families, patient organizations, clinicians and local residents were also held at various locations in Sweden.
The To Live with Epilepsy Project boosted the confidence of epilepsy patients and their families, and helped improve the quality of their day-to-day lives.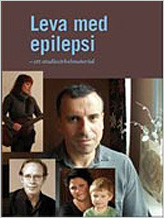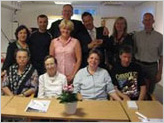 Some of the myths related to this disease have been perpetuated for hundreds of years, and time is required before a significant shift in people's perceptions can be achieved. However, we believe that by enabling a correct understanding of their disease, we have been able to create "hope" for epilepsy patients through greater confidence in themselves as well as the conviction that their future is a bright one.
One patient said, "I think that the media interest around this epilepsy book has put light on epilepsy in general. People seem to get interested in my disease instead of being frightened by it." Eisai AB will continue to organize and hold epilepsy study meetings and event tours throughout Scandinavia. We would also like to provide even more advanced assurances to patients living with epilepsy by supporting the activities of epilepsy patient organizations and holding training sessions at healthcare facilities.