Each year, Eisai holds a variety of onsite training sessions at medical facilities around Japan. This program is designed to provide employees with opportunities to experience firsthand the current realities of medical and nursing care while fostering the hhc mindset in employees so that they can carry out their duties from the perspective of patients.
The onsite training conducted in August this year was held at a hospital specializing in treatment of neurological and motor system diseases. This hospital provides patient-centered medical care and promotes this in its management philosophy in order to raise the quality of its service.
The training session started with a presentation by the hospital's director about the hospital's management philosophy, a concept that the director envisages in order to become the "one and only" hospital to its patients. This was followed by presentations from frontline medical staff, a look at the latest medical equipment, a rehabilitation simulation-experience, and discussions with hospital workers. The program provided participants with a firsthand experience to help further deepen their understanding of the reality of patients and issues of health care today.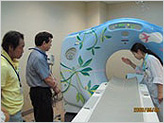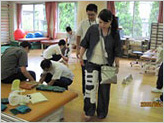 The training was such an inspiring experience to the participants. One of the participants said; "I felt that all the hospital staff were confident and passionate about their jobs. They were highly-motivated professionals looked truly happy to serve their patients. I think it is very important. How could they offer satisfactory experiences to the patients if they were not happy with what they do?" Another employee commented; "Eisai's purpose and meaning is to 'create medicine' in order to 'share joy' with patients. Through the onsite training, I realized that the responsibility to achieve this lies with us."
Many participants found the hospital's management policy is rooted in the same spirit that underlined in the hhc mission and reaffirmed their commitment to pursuing this mission.
Eisai will continue to promote this kind of training program and support employees in learning about the medical workplace so that they can gain a deeper awareness of the roles they must play and the responsibilities they must carry out in their day-to-day work.