On July 23, 2009, "hhc Initiative 2009" was held at Eisai headquarters, with approximately 120 Eisai employees, including top management from around the world, in attendance.
The "hhc Initiative" awards outstanding employee activity themes chosen from amongst a number of hhc driven activities and innovation activities such as papers solicited from within the company, and is planned and held each year so that Eisai employees can gain a deeper understanding of the importance of activities conducted from the perspective of patients, as well as to convey the objectives and effects of this program to as many people as possible.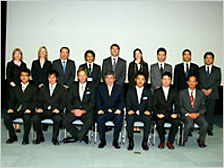 The twelve activities awarded this year were all initiatives that employees undertook in an effort to realize Eisai's fundamental mission of increasing the benefits that healthcare provides to patients, their families and the wider public. Representatives from four of the initiatives gave a presentation on their activities, as well as on their thoughts about the creation of patient joy from their respective positions.
In addition, Dr. Tomoyuki Mochizuki, Hospital Director of Kawagoe Gastrointestinal Hospital, was invited to speak on the topic of "Hospitality that Brightens Lives – Healthcare: the Ultimate Service Industry." During his lecture he explained about his management philosophy of ensuring the happiness of both patients and employees.
Eisai will continue to hold "hhc Initiative" in an effort to help award winners with achieving further leaps, and to enhance activities that facilitate the realization of global hhc by all employees.