One of the major goals of Eisai's business activities in Japan is promoting the "creation of communities" in which people can live with peace of mind even after becoming ill.
For Eisai, this means medical and nursing care specialists, local government as well as local residents working in cooperation with each other to realize patient-friendly "communities". We aim to create "communities" where patients have easy access to the early diagnosis and treatment of illnesses and where fewer people become bedridden.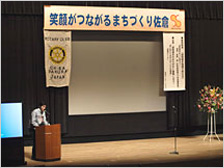 With its vast experience in the development and marketing of Alzheimer's disease treatments, Eisai has been helping to build social environments that are supportive to patients through the following initiatives, as a step towards creating communities where people can live with peace of mind even after the onset Alzheimer's disease.
Activities to increase awareness of Alzheimer's disease and promote its early detection

-Holding of Alzheimer's disease forums for patients and general public

Development of nursing care manuals

-Working with insurance, medical care, and nursing care providers to prepare manuals for caregivers

Development and promotion of widespread use of VSRAD (imaging system to facilitate early detection)

-Developing tools to support the diagnostic imaging of Alzheimer's disease using MRI and distributing them to healthcare providers

Provision of support to build networks between attending physicians and medical specialists in the community
However, despite these efforts, there are still many other issues which need to be addressed. For this reason, Eisai launched its new "Community Network Coordination and Support Section" in the Japan Business Headquarters in October 2008, as a specialist body to support community development and to further promote the aforementioned activities.
Currently, Eisai employees are working to determine not only the medical, but also the various welfare and nursing care related problems being faced in communities throughout Japan, and are endeavoring to develop new initiatives to help tackle such issues. The Company is also leveraging its experience in dementia to enable people suffering from such conditions as osteoporosis, rheumatoid arthritis, and atrial fibrillation to have peace of mind as they strive to live satisfying lifestyles in accordance with their own individual hopes.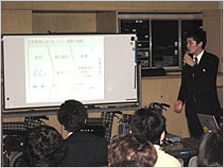 Eisai's efforts to support the creation of supportive social environments embody its human health care (hhc) philosophy. All employees will continue to unite in their efforts to create communities where patients and their families can live with peace of mind even after becoming ill.