Eisai Group employees incorporate the corporate philosophy into their work.
We asked our employees to talk about the hhc they envision, how it impacts their work at Eisai, and about how they put it into practice.
Shigeru Haruki
Customer and Product Quality Information Center (Customer Hotline)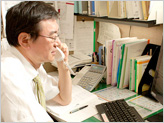 1. Please describe the specifics of your job.
I receive and respond to customer inquiries about Eisai products, including calls from patients and their families, health care professionals (physicians and pharmacists) and distributors.
The Customer Hotline (name for the organization) accepts calls 365 days a year between 9:00am and 6:00pm on weekdays, and between 9:00am and 5:00pm on weekends and holidays.
2. What do you keep in mind when carrying out your daily duties? Do you have a motto?
I always keep in mind for our products to be used properly by the patients. I try to respond sincerely to the inquiries from patients, their families and medical institutions and to provide them with safety, efficacy and other information about our pharmaceutical products.
3. When do you feel that you are contributing to hhc through your work?
I feel that I am contributing to hhc when I come into direct contact with the feelings of patients and am able to resolve the problems they had related to our products.
Patients and their families who call the Customer Hotline have concerns and doubts about pharmaceutical drugs. I feel that I am contributing to hhc when I accept what they have to say, resolve the problems, and am able to offer full understanding and reassurance.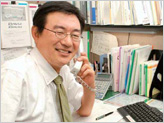 4. How will you pursue your duties in the future for the realization of hhc?
As an organization that serves as a direct line between the company and patients, we will act as the patients' and their families' voices and communicate their thoughts to other organizations within the company. Furthermore, we will use what we learn from the customers to identify issues concerning our products and propose improvements. As " preachers of hhc," I will continue to reflect the voices of patients in our company.
(The above is a revised version of an article originally published in Environmental and Social Report 2008)