Eisai Group employees incorporate the corporate philosophy into their work.
We asked our employees to talk about the hhc they envision, how it impacts their work at Eisai, and about how they put it into practice.
Miwa Jindo
Tokyo Pharmaceuticals Department 7, Japan Business Headquarters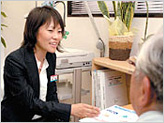 1. What are your specific duties at work?
I'm a medical representative (MR) mainly in charge of doctors in private practices in Itabashi ward, the northern part of Tokyo. Every day I visit doctors and provide safety and efficacy information on our products. Sometimes doctors ask us difficult questions, but I try to respond the best way I can so that I can build a strong and trusting relationship.
2. What is your motto for carrying out your duties?
I always keep it in my mind that:
The suffering and difficulties of patients are the same, whether they are treated at a large medical institution or at a small clinic
To think from patients' perspectives,
To contribute to the well being of more patients via Eisai's products, and
To make no excuses
3. When do you feel that you are realizing hhc through work?
When I hear from a doctor that a patient is getting better. That says it all. An MR rarely has the opportunity to meet patients directly. So, at such moments I feel confident in what I have done as an MR. It is especially at such moments that I am happy to have contributed to patients and that I really understand the meaning of hhc.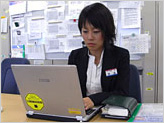 4. How are you going to address your operation to realize hhc?
I've been engaging in my work keeping in mind that patients in large hospitals and small clinics endure the same suffering and difficulties. I'm going to continue to work with this belief far into the future. In addition, I want to expand my knowledge so that I can attend to every possible need of patients and doctors as well as talk with doctors about the total care of patients.
(The above is a revised version of an article originally published in Environmental and Social Report 2008.)