Eisai is conducting a simulation program employing a case study and field experience at an institution for the mentally disabled as part of the company's employee training to realize its corporate mission of "human health care" (hhc).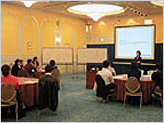 With regard to the field experience conducted at an institution for the mentally disabled, employees accompany residents as they paint pictures, do light chores, eat meals, or play Japanese drums.
Those taking part in this training directly experience the emotions and knowledge of the caregivers and residents at the institution, learning the importance of retaining an hhc mindset, which involves caring, thoughtfulness and gratitude, and applying it to their work. The trainees also learn that the residents lead cheerful, full lives as the result of the dedicated efforts of caregivers to help them achieve independence.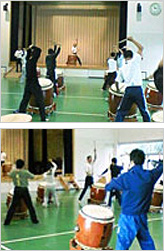 The other part of the training involves employees examining a case study conducted in a small town consisting entirely of senior citizens. There are many elderly people involved in the business of supplying upscale restaurants with leaves for garnishing that lends a seasonal feel to their dishes. This case study examined by the employees focuses on the joy that senior citizens experience in being able to contribute to society, as well as the motivation and objectives that enable them to work and also to succeed in business.
Through the simulation employing the field experience and case study mentioned above, employees grasp the importance of achieving Eisai's key mission of "increasing patient satisfaction," and that, as a result, it is possible to gain a sense of individual fulfillment and to continue on as a business.
The trainees learn the importance of always passionately striving in their work and making efforts in their daily work duties to realize hhc, while bearing in mind how to apply what they have learned from the simulation.