Eisai Group employees incorporate the corporate philosophy into their work.
We asked our employees to talk about the hhc they envision, how it impacts their work at Eisai, and about how they put it into practice.
Miyoko Mogi
Injection Dosage Section, manufacturing Department, Misato Plant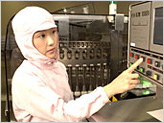 1. What is your specific responsibility at work?
I'm in the Injection Dosage Section, Manufacturing Department at the Misato Plant. At the Manufacturing Department, formulations in ampoule, vial and syringe, and lyophilized forms are being formulated, and I am responsible for filling drug solution into ampoule and vial. We are performing filling operation in a clean room, under controlled environment. Filling of injections, which are sterile preparations, requires the greatest attention to avoid microbial contamination. In addition, I use all the senses not to miss any minor malfunctions for the stable operation for stable supply of high-quality products.
2. What is your motto or belief in your daily operation?
My motto at work is "to make pharmaceuticals which I can recommend for the people I love." In our department, the products are being produced on a large scale, about 150,000 injections everyday. But the fact is that each one of these is for an individual patient, and therefore, I feel strong responsibility for each one of them. I put my heart into every single product, hoping that the pharmaceuticals I made will save as many patients as possible and bring joy and hope for the patients and their family.
3. When do you feel that you are realizing hhc through work?
Through the daily operation, I feel my hhc lies in the daily responsibility to make pharmaceuticals. Stable supply of safe and high-quality products is critical for the patients, which is exactly what is expected for me at work. By contributing to this stable supply, I believe I am realizing hhc.
There are some other occasions I think a lot about hhc. That is when I directly hear from medical personnel about our products. I'm glad, of course, when they say good things about the products, and when they complain that they find the products are not very easy to use, I always think how we can improve the products, and ultimately our hhc.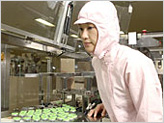 4. How are you going to address your operation to realize hhc?
I want to visit more clinical settings or patients in the future, and reflect what I feel and find out through such visits in my daily operation to make the products better meet the patients needs. Through the efforts to conduct production activity on a parallel approach to pursue quality from the producer's point of view as well as the use's point of view, I'd like to get closer to a goal to be a technical worker who can bring the patients' true needs into realize. Early development of a novel pharmaceutical that can save the patients' lives all over the world and satisfy unmet medical needs is also an issue we need to address. To that end, all of us at Eisai, I strongly believe, need to help each other across facilities and departments and conduct production activities on a global basis.
(The above is a revised version of an article originally published in Environmental and Social Report 2008.)