Eisai's Honjo Research Section, Formulation Research Laboratories is currently promoting a project activity to make customer-friendly OTC (over-the-counter) drugs available earlier. We are working on this by applying new pharmaceutical technologies for the development of new products that are easy to take/use and accessible, based on the project flow as follows: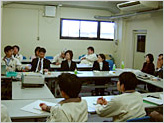 1.

Raising our awareness of customer satisfaction through field surveys at pharmacies and researches on competitors' products.

2.

Make a prototype sample using a new pharmaceutical technology which is likely create customer satisfaction.

3.

Share the ideas of utilizing specific technology for a new product with marketing (planning) department to examine the effort from customers' points of view.
As a part of this initiative, we set up occasions called "Ba (Place)" to ensure better communication required for successful combining pharmaceutical technologies with products ideas developed by the marketing (planning) department, which has a direct contact with customers.
Several unique ideas came up as a result of brainstorming, and led to launch of new projects such as the ones targeting distinguishable tablets, sugar-coated capsules, and sugarless coated tablets. Some of them have already applied for the development of new products which will create a higher level of customer satisfaction.
With full respect for customer satisfaction reinforced through the project activity, we will continue to develop products which will benefit our customers.