India is a country with large population of 1.1 billion with estimated population of senior citizen of 70 million. With increased number of population of senior citizen, there are an increased number of people suffering from dementia. Still, only 0.1 million out of total 2.1 million patients are currently on treatment of dementia.
The reason why the vast majority of patients are not treated for dementia is because the disease is not well known in India, and it is commonly misconceived as a sign of aging. Financial burden of treatment of dementia has become an emerging issue as well as emotional burden for patients' families and care givers. Given that situation, Eisai is engaging in the following activities to realize hhc philosophy in India.
Screening Camps:
Eisai is organizing Screening Camps in association with medical specialists, NGOs (Non Government Organizations), retired employees associations, senior citizens association, and others. We are engaging in various kinds of services and activities such as education on dementia, distribution of self-screening leaflets for the elderly population, providing examinations by psychologists and doctor's evaluation. 10,071 people so far participated in the total of 394 Screening Camps throughout the country, and 1,616 people out of the participants were diagnosed dementia and put on medication.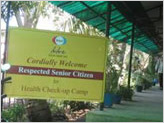 Assist in Establishing Memory Clinic:
Memory Clinic is a hospital based, out-patient, multidisciplinary service providing a range of detailed assessment, management, and advisory service for individuals with dementia and their caregivers. In spite of its important role in treatment of dementia, this sort of infrastructure is absolutely insufficient in India. To improve present situation, Eisai has supported the establishment of as much as 40 Memory Clinics across the country, which now serve as bases of research and educational activities.
Media Activities:
In order to create awareness of dementia we are actively associating with the doctors across country. Various activities through Print Media (Magazines/Newspapers), Radio, Television and Community talk helps in community awareness and thousands of elder people to identify symptoms of dementia early.
Eisai India will continue to pursue its commitment to expand the public understanding about diseases including dementia through hhc activities, which gives first thought to patients and their families and contribute to patients' benefits as hhc company.