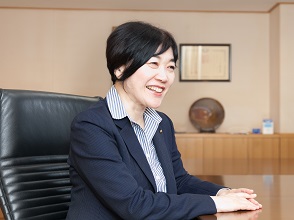 Chair of the Board of Directors (Outside Director)
Toru Yamashita
Biography
Apr. 1971

Joined Nippon Telegraph & Telephone Public Corporation (known as NTT)

Jun. 1999

Senior Vice President & Director, NTT DATA Corporation

Jun. 2003

Executive Vice President & Director, NTT DATA Corporation

Jun. 2005

Senior Executive Vice President and Representative Director, NTT DATA Corporation

Jun. 2007

President and CEO, NTT DATA Corporation

Jun. 2012

Director and Chief Corporate Adviser, NTT DATA Corporation

Apr. 2013

(Cabinet office) Chair of Public Interest Commission (current)

Jun. 2013

Outside Director, Mitsui Fudosan Co., Ltd. (current)

Jun. 2014

Chief Corporate Adviser, NTT DATA Corporation (current)

Jun. 2014

Director of the Company (current), Member of the Independent
Committee of Outside Directors (current), Member of the Nomination
Committee and Member of the Compensation Committee

Jun. 2015

Chair of the Nomination Committee of the Company

Jul. 2015

Outside Director, Sumitomo Life Insurance Company (current)

Jun. 2016

Chair of the Board of Directors of the Company (current)
What was the background that led you to the appointment as an outside director at Eisai?

I do not really know the background. I wasn't closely involved with Eisai, so when the company contacted me, I was puzzled and wondered what on earth it could be about. I exchanged business cards with CEO Naito for the first time, when the Company had already decided to appoint me as an outside director. I was genuinely surprised by the whole process. I think my fellow outside directors felt the same.

In general, when most companies are appointing an outside director, I imagine someone in management will say something like "I know someone who is reliable, so we should just check that there are no issues with independence or neutrality." That is certainly not the case at Eisai. Eisai starts by narrowing down a list of candidates whose independence and neutrality is assured, then the Nomination Committee consist exclusively of outside directors selects a new outside director with the aim of striking a balance, for example, across areas of expertise. It may be risky from the CEO or the Executing Divisions' point of view, as they do not directly involve in the process, and it requires a certain amount of courage. I would say that this process truly reflects Eisai's commitment to governance.

What is your impression of how the Eisai Board of Directors is run? Have you encountered any issues ?

Eisai operates the plan-do-check-act (PDCA) cycle very effectively. I have a real sense from board meetings that outside directors' opinions are taken very seriously by the Executing Divisions. If an outside director raise a question, the Executing Division provides a detailed explanation in a sincere manner. Additional meetings can be held to provide more detailed explanations if requested. Likewise, new agendas can be added for board meetings as a result of new issues identified by the board. I think this is possible due to the follow up for the Executing Division by the experienced members of the Board of Directors' Secretariat from the perspectives of outside directors.

The only issues I have encountered have been minor technical ones, such as the presentation and readability of documents.

Eisai's medium-term business plans used to run for five years. Is it true that the switch to 10 years was at the suggestion of an outside director ?

Yes, that was my suggestion; however, it's not that I told the company to "change your plan to 10 years." Every company has their own way of formulating medium-term plans. Whereas some divide plans into five-year periods, others set out rolling plans every three years. I suggested: "How about formulating a medium-term plan that reflects the nature of Eisai's business in terms of development of new medicine which requires long period of time ? You could have a different vision and targets, perhaps with a 10-year vision and numerical targets for every five years ?" CEO Naito sought opinions from a great many members of staff within the company about the validity of a 10-year medium-term plan. As a result, he said, "most of the things that are happening at the moment could have been predicted a decade ago, so it's wrong to say that we don't know what will happen in 10 years." I was surprised to see that he had taken the opinion of an outside director so seriously that he had gone to talk to frontline staff about it as well.

What is your impression of Eisai's employees and corporate philosophy ?

A medical representative once said to me, "It improves symptoms for epilepsy patients so much that I've actually had patients and doctors thanking me." I was honestly jealous of having that opportunity to be thanked by customers. I have also heard a researcher with a real sense of responsibility, saying "A relative died from cancer, so that made me determined to create new drugs." I feel that Eisai's employees do a rewarding job in a wonderful environment. That's something I hope employees themselves appreciate.

Having visited a group home and seen Eisai's patient socialization program in action, it really felt like the corporate philosophy has established itself. To a large extent, I think this is due to CEO Naito's many years at the helm of Eisai and his determination to establish its corporate philosophy. The ability of top management to take the initiative and disseminate the corporate philosophy across to those on the frontline is a key factor in determining the company's sustainability.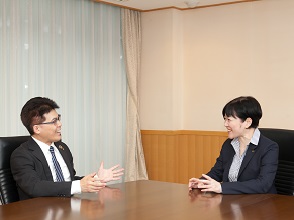 (Interviewer: Yasukazu Kanamori, Executive Director, Investor Relations)