A Drug Creation (R&D) Framework Within an End-to-End Business Group Structure
Having identified neurology and oncology as areas of focus, Eisai aims to tackle diseases for which treatments are yet to be fully established. By actively concentrating R&D resources in these areas, Eisai continues to dedicate itself to discovering new and highly effective treatments. The company's drug creation framework has four divisions: Neurology Business Group (NBG), Oncology Business Group (OBG), Medicine Development Center (MDC) and hhc Data Creation Center (hDAC).
NBG and OBG each have their own strategic divisions, including functions ranging from drug discovery and research, clinical research to medical and business development (license-in/out), and are structured to be able to make quick decisions and nurture scientific acumen. MDC meanwhile provides a basic platform for drug creation through providing essential technology and support in areas such as non-clinical safety, pharmacokinetics, CMC (chemistry, manufacturing, control), pharmaceutical regulations and clinical development support. hDAC serves as a big data center, using AI (artificial intelligence) and other advanced analytical technologies to assess clinical and non-clinical data from internal and external sources, with the aim of enabling new drug creation research underpinned by ICT-driven innovation.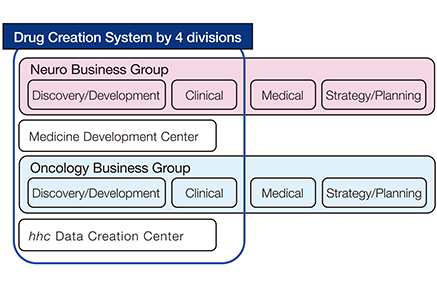 Eisai's Drug Discovery, Research and Development Sites Worldwide
Eisai carries out drug discovery research, drug development research and clinical research throughout the world. Eisai pursues innovative new drug creation by promoting the exchange of various knowledge and ideas from around the world.