In October 2013, Eisai began its free supply of diethylcarbamazine citrate (DEC) 100 mg tablets produced at its Vizag Plant in India to the World Health Organization (WHO) to help treat and eliminate lymphatic filariasis worldwide. The DEC tablets will be provided to WHO over a period of seven years and are expected to benefit some 250 million people living in at-risk communities through WHO's mass drug administration programs in 26 countries endemic for the disease.
High-quality DEC tablets are currently in short supply in endemic countries and this poses a major obstacle for the effective elimination of lymphatic filariasis. As part of an agreement signed by Eisai and WHO in November 2010, Eisai developed a DEC tablet formulation for worldwide distribution and, after acquiring WHO prequalification in August 2013, has since begun production of its "Eisai-original" DEC tablets to be shipped to targeted endemic countries. The first destinations confirmed to receive Eisai's initial DEC shipment are the Pacific nations of Papua New Guinea, Kiribati, Tuvalu and Fiji. Approximately 6.25 million people* are reported to be living in at-risk communities in these countries alone.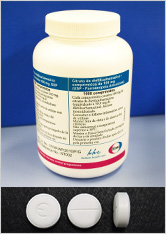 *

WHO Preventive Chemotherapy and Transmission Control (PCT) Databank (as of 2012)
Vizag Plant Managing Director Sanjit Lamba describes some of the various challenges that were overcome to realize the DEC project, from the formulation development phase through to the initial shipment.

Sanjit Lamba
President, Global Brand Demand Chain Unit
Managing Director, Vizag Plant (Eisai Pharmatechnology and Manufacturing Pvt. Ltd.)
It is really a proud moment for us at the Vizag Plant to be chosen as the facility to develop Eisai's original DEC tablets for use in mass drug administration programs as part of hhc activities to improve access to medicines worldwide.
I believe that Eisai's decision to supply DEC tablets at price zero is a true example of our commitment and passion for hhc and determination to contribute to the health of patients with lymphatic filariasis and their families. Carrying this project to fruition, however, has been no easy task and the Eisai Group as a whole had to overcome numerous challenges throughout the project's implementation. One of the key challenges for the Vizag Plant in particular was developing the DEC tablet formulation. The Plant's development team worked in close coordination with the formulation production research team in Japan to develop a new, chemically stable DEC 100 mg tablet that was pharmaceutically equivalent to an existing high-quality DEC brand drug.
Another big challenge was securing consistent supplies of active pharmaceutical ingredients (APIs) to produce the high-quality DEC tablets required according to Eisai's specifications. The Plant's sourcing team gathered information from numerous sources, including existing API suppliers, sourcing partners and experts, trading companies and other Indian pharmaceutical companies to finally develop two new sources in India.
After a smooth 10-month process from submission of the DEC application to WHO for evaluation and good manufacturing practice (GMP) inspection through to prequalification, the Plant's initial price-zero shipment of "Eisai-original" DEC tablets was then sent to the first four targeted endemic countries. Eisai's stable supply of DEC to WHO is set to continue for a total of seven years, ending in 2020.