Eisai is implementing marketing activities in each region, looking at regional characteristics. 10-year changes in business performance will be introduced in this section.
Japan pharmaceutical business
Japan pharmaceutical business achieved peak sales in fiscal 2011 with the expansion of Alzheimer's disease treatment Aricept® and proton-pump inhibitor Pariet®. However, it experienced decrease of revenue due to the loss of exclusivity for these two products (Pariet®: in 2010, Aricept®: in 2011). Rapid expansion of generics in the market and price revision, which is implemented every two years, also impacted the performance.
After years of stagnant growth, Japan pharmaceutical business got back to growth trajectory and achieved increase in sales for three consecutive years since fiscal 2016 with the growth of new branded products, such as in-house developed anticancer agents of Lenvima® and Halaven®, fully human antiTNF-α monoclonal antibody Humira® and pain treatment Lyrica®.
Eisai strives for further growth of branded products, such as Lenvima®, even though a decrease in sales is forecasted for fiscal 2019 due to transfer of generic business and price revision.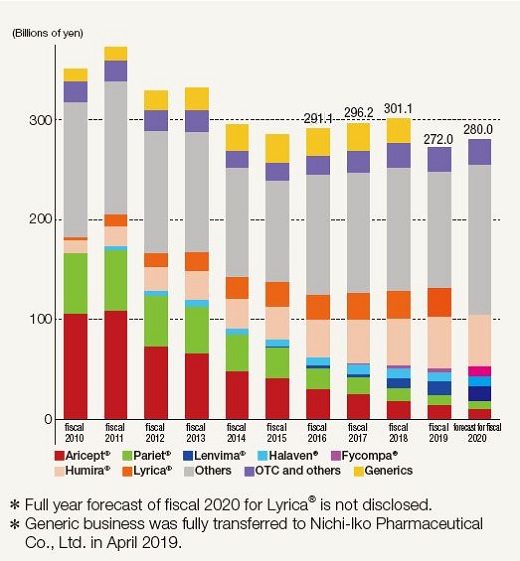 Americas pharmaceutical business (North America)
Performance of business in the U.S., the biggest pharmaceutical market in the world, had declining drastically after loss of exclusivity for Aricept® in 2010. Additionally, loss of exclusivity for AcipHex® (product name of Pariet® in the U.S.) in 2013, and return of the marketing rights for antiemetic agent Aloxi® impacted on the performance. Yet, anticancer agent Halaven® and antiepileptic agent Fycompa® continue to grow steadily. Revenue of anticancer agent Lenvima® rapidly expanded in fiscal 2018 with the additional approval for hepatocellular carcinoma indication.
Eisai aims to achieve increase in revenue with the growth of Lenvima® in the U.S. in fiscal 2019.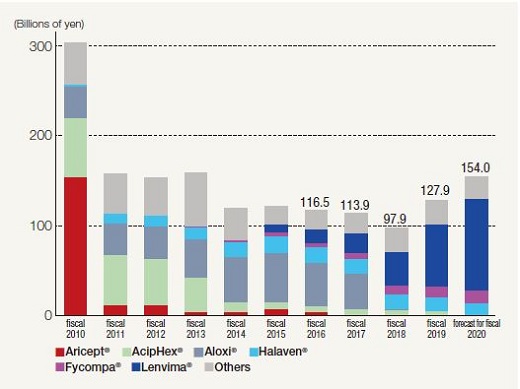 China pharmaceutical business
Eisai's pharmaceutical business in China, particularly conventional drugs, such as peripheral neuropathy treatment Methycobal® and Aricept® are continuously growing even if their generic equivalents are already available on the market. In addition, Lenvima® has been launched in November 2018 and recorded 3.1 billion yen of revenue in 5 months.
New policies along with institutional reforms has accelerated new drug approval process in China, but further expansion of generics is also expected at the same time in China. Eisai aims to achieve double-digit growth for nine consecutive years (local currency basis) with rapid expansion of Lenvima® and stable growth of other products in fiscal 2019.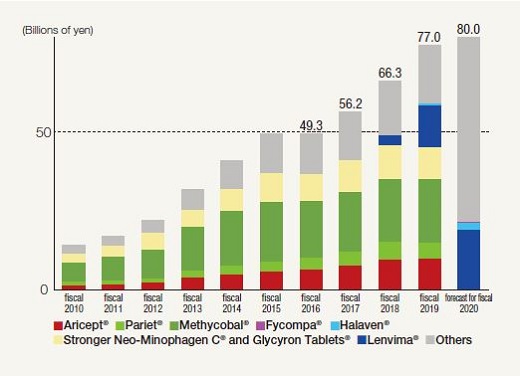 EMEA pharmaceutical business (Europe, the Middle East, Africa and Oceania)
Performance has significantly declined after loss of exclusivity of two major products of Aricept® and Pariet® in 2012. Currently, the expansion of Halaven®, Fycompa® and Lenvima® are contributing to the increasing trend in revenue, in addition to the growth of three antiepileptic agents Zonegran®, Zebinix® and Inovelon®.
Eisai seeks to achieve record-high revenue of 51.0 billion yen in fiscal 2019 with rapid expansion of Lenvima®.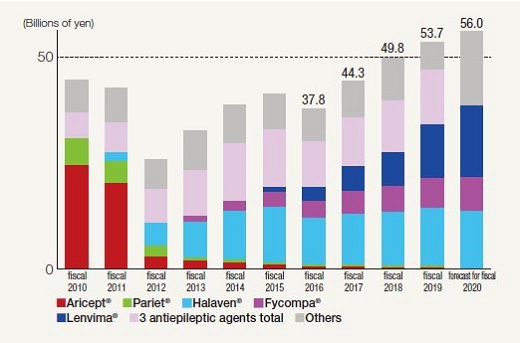 Asia and Latin America pharmaceutical business (primarily South Korea, Taiwan, Hong Kong, India, ASEAN, Central and South America)
Eisai's business in Asia is continuously growing, associated with the expansion of the pharmaceutical market along with economic development in each country. Growth of fully human anti-TNF-α monoclonal antibody Humira® is continuously growing, in addition to stable growth of Aricept®, Pariet® and Methycobal®, notwithstanding the generics already available on the market. Eisai seeks the opportunity to expand the in-house developed products in Latin America through partnership with Grupo Biotoscana, which signed an exclusive licensing agreement with in 2017.
Although revenue growth is expected to be slowing down temporarily due to the scheduled return of marketing rights for Humira® scheduled in Taiwan in August 2019, Eisai strives for further growth with Lenvima® , Halaven® and Fycompa® to support sustainable growth in the future.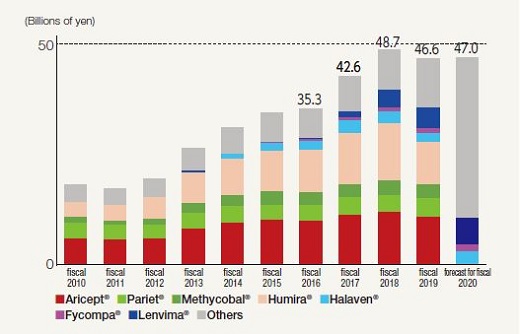 Other business
Other business refers to the performance associated with income from licensing to parent company and business for active pharmaceutical ingredients (API). Revenue recorded in fiscal 2017 to fiscal 2018 included the recognition of payments from Merck & Co., Inc., Kenilworth, N.J., U.S.A. in association with strategic collaboration for Lenvima® (34.5 billion yen in fiscal 2017 and 65.5 billion yen in fiscal 2018). Expansion of recognition of payments is expected in conjunction with revenue growth of Lenvima® in fiscal 2019.