Eisai is implementing marketing activities in each region, looking at regional characteristics. 10-year changes in business performance will be introduced in this section.
Japan
Patients with cancer and neurological disorders tend to be concentrated in acute care hospitals which provide advanced medical care. Because communication skills are necessary for MRs to share their thoughts with medical professionals with ample knowledge and propose prescriptions, field trainers assigned to each focus area are working hard on talent development.
Due to the busier schedule of doctors and the stricter security of hospitals, restrictions on visits to medical institutions have been tightened. Information gathering by digital channels is rapidly being common. Therefore, we established the Digital Market Strategy Department, and are working on the construction of a next-generation marketing scheme in parallel with improving the skills of MRs. We are going to realize more effective multi-channel promotion by identifying the true needs of medical personnel by separation of the roles of MRs and digital channels to increase commercial effect and efficiency, instead of simply replacing the MR function with digital contents.
We are aiming at sustainable growth especially with in-house developed anticancer agents Lenvima® and anti-insomnia drug DayvigoTM.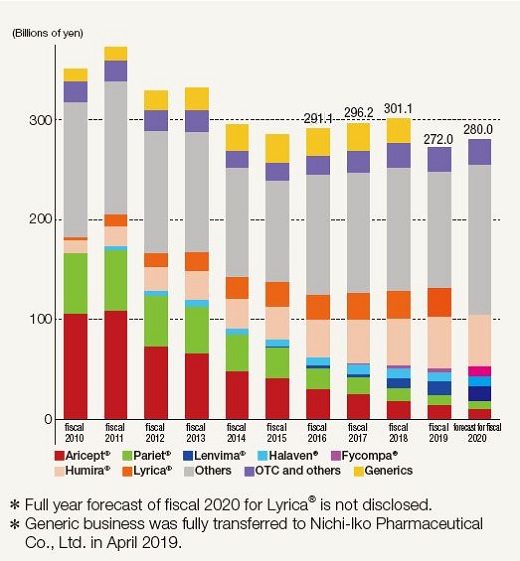 Americas (North America)
In-house developed anti-cancer agent Lenvima® achieved dramatic growth and led an increase in revenue in fiscal 2019. In-house developed new anti-insomnia drug DayvigoTM was launched in June 2020. Eisai is implementing marketing/promotional activities utilizing digital tools, such as sending e-mails and holding webinars to medical personnel, in addition to conventional marketing activity, in which MRs visit medical facilities to provide information on the products.
Eisai aims to further promote digital marketing activity to establish the structure, which will make it possible to stay connected with medical personnel even in an unexpected situation where marketing activities are restricted.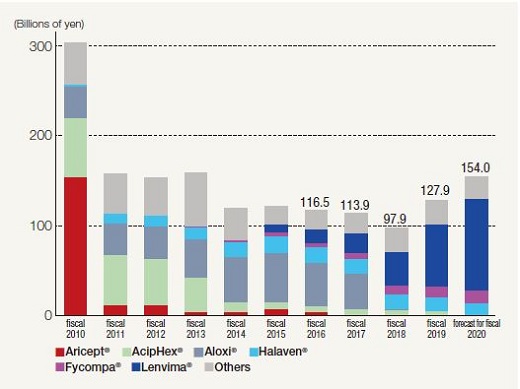 China
Although long-listed products, such as Methycobal® and Aricept® have supported the growth of business for a long time, in-house developed new products, such as Lenvima®, Halaven® and Fycompa® have been launched and supported the growth since fiscal 2018. We aim to continuously grow by being flexible with changes brought by rapid expansion of online healthcare business with further expansion of new products, market development in inland areas and regional small cities/hospitals, and an up-to-date business model with full-fledged digital technology.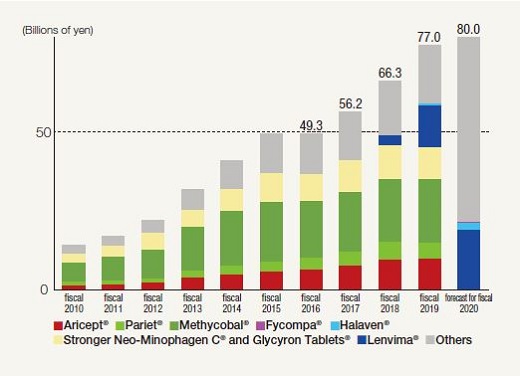 EMEA (Europe, the Middle East, Africa and Oceania)
Managers spend most of their time coaching MRs focused on initiatives to improve productivity. MRs improve their marketing skills through the coaching and strive to achieve better performance through mutual communication with medical personnel. Furthermore, in the regions where Eisai implements business through collaboration with partners, such as the Middle-East, Africa, Central and Eastern Europe, and Southern Africa, our in-house marketing team provides the educational program to partners, so that partners can learn high quality information.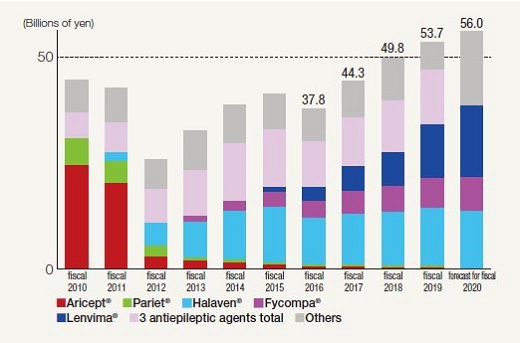 Asia and Latin America (primarily South Korea, Taiwan, Hong Kong, India, ASEAN, Central and South America)
Asia is the first region where Eisai expanded its business outside Japan in the late 1960s, since when approximately half a century has elapsed. The subsidiary company in Thailand marked its 50th anniversary in 2019, and it has expanded the territory to cover Vietnam, Myanmar, Cambodia, and Laos through collaboration with partners. In addition to the provision of information by MRs, the company hold the event called "Eisai Day" annually where talk shows and events by physicians and pharmacists are provided for patients, their families, and healthcare providers, as well as the general public.