75 The number of countries and areas where we conduct marketing activities
Maximizing the meeting of needs while taking regional characteristics into account
Based on the "hhc" corporate concept, Eisai aims to elucidate the true needs that are latent in patients, their families, and medical personnel, and to bring about the meeting of unmet medical needs by marketing activities that take account of regional characteristics.
Americas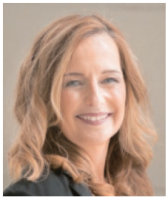 Teresa Cronin
Senior Director, Corporate Advocacy and Americas Region hhc Administrator, Eisai Inc.
Oncology business group growth, pipeline advancements, and ongoing innovation in patient/ medical community support
Oncology's commitment to the "hhc" mission has never been stronger as we continue innovating on behalf of patients.
The growth versus prior year was driven by Lenvima®, with a total of 20,000 patients treated in the U.S. Total demand for Lenvima® and KEYTRUDA® combination therapy continues to increase significantly, with its administration to over 7,000 new patients, including patients with certain types of advanced endometrial cancer* (EC). We are confident in the continued growth of our existing indications and have begun preparations for new approvals based on positive pivotal trial results presented at major medical congresses such as Genitourinary Cancers Symposium (ASCO-GU) about renal cell carcinoma and Society of Gynecologic Oncology (SGO) about EC, and potentially hepatocellular, melanoma, and lung cancers in addition. Through Eisai's commercial activities, we seek to keep the patient at the center and to increase impact through innovation and partnerships.
The Eisai Oncology Business Group has recently launched two high impact patient support initiatives in the U.S., focused on driving disease awareness and providing educational support in hepatocellular carcinoma (HCC) and EC. In HCC, the "Culture of Care" campaign was launched to address disparities of healthcare in Asian American and Latinx communities. This campaign was developed with input from patient advocates within each of these communities, and consists of unbranded education with a focus on overall liver health and liver cancer risk. It includes non-verbal resources and live educational events.
A second initiative is "Spot Her," an initiative to drive awareness of the signs and symptoms of EC, which is the 4th most common women's cancer with 65,000 cases per year. The initiative was launched in partnership with SHARE Cancer Support (SHARE), Facing Our Risk of Cancer Empowered (FORCE) and Black Health Matters to raise awareness of this common, yet under-recognized, women's cancer. The Spot Her initiative aims to embrace the power of every woman's voice to take a stand on this important women's health issue, and provide support, education and community.
In addition to patient outreach, the extended oncology team quickly adapted to the new ways of working to maintain high engagement with health care professionals (HCPs) across multiple channels in fiscal 2020 amid COVID-19. The team's agile efforts included the development of new digital connectivity platforms, remote peer-to-peer forums programs, and improving connectivity initiatives to ensure that valuable collaboration with the medical community was not lost. In addition, as a company, we have continued to invest in our team's skills and development, including ensuring that our sales associates are equipped to be successful in a hybrid live and digital interaction environment. We have rolled out new field playbooks and well-received virtual coaching and training summits.
Our collective team, comprised of our field-based associates and home office colleagues in marketing, legal, compliance, and information technology, developed strategies for digital engagement solutions to further optimize how we connect with HCPs. We are rolling out a new platform "Eisai Engage" in early fiscal 2021, offering HCPs a virtual option to connect with Eisai sales associates, medical science liaisons, and medical information. We designed a digital destination that will facilitate our engagement with customers on an on-demand basis by providing easy access to critical tools and resources about Lenvima® and other brands. We are planning to add digital tools to support patients, caregivers, and HCPs in their journey with Lenvima®. Our strategy is aligned with the medium-term business plan 'EWAY Future & Beyond' to create solutions based on scientific evidence, including digital therapeutics to support prevention, management, and treatment of diseases.

* Advanced endometrial carcinoma that is not Microsatellite Instability-High (MSI-H) or Mismatch Repair Deficient (dMMR), and progressed following prior systemic therapy in any setting in patients who are not candidates for curative surgery or radiation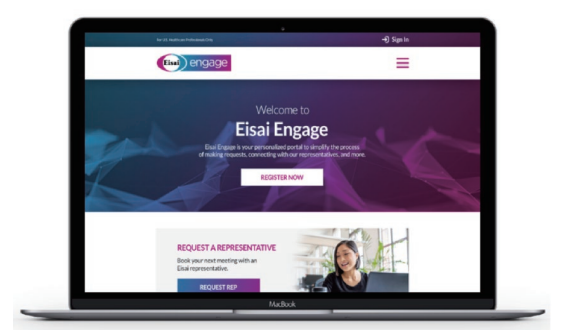 The Eisai Oncology Business Group has an exciting runway ahead of it, with a robust pipeline and multiple forecasted near-term launches. The collaboration with Merck & Co., Inc., Kenilworth, N.J., U.S.A. for Lenvima® and KEYTRUDA® combination therapy currently has over 20 clinical studies underway, across 13 tumor types.
We remain committed to scientific innovation, as well as providing innovative solutions to support the medical community and oncology patients.
China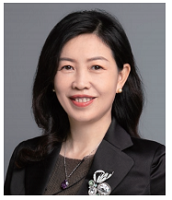 Yanhui Feng
Senior Vice President President, Eisai China Holdings Ltd. President, Eisai China Inc.
Growth based on approximately 30 years of doing business in China
Eisai's business in China commenced when a collaborative company was established in Shenyang in 1991, and thus has a history dating back approximately 30 years. During that time, products such as Alzheimer's disease treatment Aricept®, and peripheral neuropathies treatment Methycobal® led the growth of the business. Since 2018, institutional reforms led by the government have been progressing in China, including acceleration of new drug approvals and early inclusion of innovative drugs in the reimbursement lists. With these reforms as a tailwind, Eisai China has launched 3 global brand products, which are new drugs, starting with anticancer agent Lenvima®, which was approved in 2018 for the indication of hepatocellular carcinoma (HCC), followed by anticancer agent Halaven® and antiepileptic treatment Fycompa®. It is estimated that the number of patients with HCC in China accounts for approximately half of the patients with liver cancer in the world. In the 3 years since its launch, Lenvima® has grown to be the largest product of Eisai China in terms of revenue.
As soon as we launched Lenvima®, a Patient Assistance Program (PAP) was introduced as an effort to reduce the burden that treatment imposes on patients. At the same time, Eisai China kept negotiating with the Chinse government for patient access. After almost half a year of preparation, Lenvima® and Fycompa® were listed on the 2020 National Reimbursement Drug List (NRDL). Now that insurance coverage has been initiated, patient access is expected to expand dramatically, and we will be able to deliver this drug to vast numbers of patients who are in need.
At the same time, measures to improve the quality of generic drugs and promote generic drugs' dissemination are also ongoing in China. In December 2018, the National Centralized Drug Procurement (NCDP) was ntroduced, mainly for the drugs used at national hospitals, and standard drugs, as well as generic drugs that have passed the Generic Quality Consistency Evaluation (GQCE) in comparison to the standard drug, have become eligible to join the bidding. In August 2020, Methycobal® tablets successfully won the bidding for the NCDP, which was a first for a Japanese pharmaceutical company. This has enabled us to continue to deliver Methycobal® tablets manufactured by Eisai to patients throughout China. An anti-inflammatory drug Loxoprofen, manufactured by Liaoning Pharmaceutical Co., Ltd., a generic drug manufacturing company which we acquired in December 2015, has also passed the GQCE by the authorities in comparison to the standard drug, and in February 2021, it successfully won the bidding for the NCDP. With high-quality generic drugs such as these, we will deliver the value of drugs to small and medium-sized cities and hospitals in inland and rural areas, where market growth is expected.
Due to the aging population, the elderly population over the age of 60 was 253.88 million, which accounted for 18.1% of the total population of China as of the end of 2019*1 . With the rapid aging of the population, there is an increasing need for high-quality medical and nursing care for elderly people. The adoption of digital technology in the medical field is rapidly developing in China; for example, the ban on online hospitals under private medical insurance was lifted in 2012*2 .
In October 2020, Eisai China established a joint venture company, Jingyi Weixiang (Shanghai) Health Industry Development Limited Company, with JD Health, a group company of JD.com, which is a health management platform covering all health management scenarios throughout the entire life cycle of users, providing medical services based on an effective supply chain and driven by digital technology. By leveraging the strengths of each company, the two companies will first build a platform with a special feature for dementia, with the aim of building a new One-Stop Health Service Platform for elderly people in China, so that users can select and use the most suitable individual service from a variety of information and medical services. In the future, we plan to continue to expand the business in order to contribute towards the meeting of needs in medical and nursing care in China. We aim to create value by contributing to "The People" from the medical field to daily life, utilizing "Internet +"*3 and digital transformation.
*1 National Bureau of Statistics of China: http://www.stats.gov.cn/english/PressRelease/202002/t20200228_1728917.html
*2 Description of an online hospital platform, China Bulletin of the World Health Organization 2019; 97:578-579. http://dx.doi.org/10.2471/BLT.18.226936
*3 The core policy on IT in China enacted in 2015 in order to solve the issues and revitalize the economy by combining internet technology with existing industry and social life, including manufacturing industry, finance, energy, health, education, smart life and so on.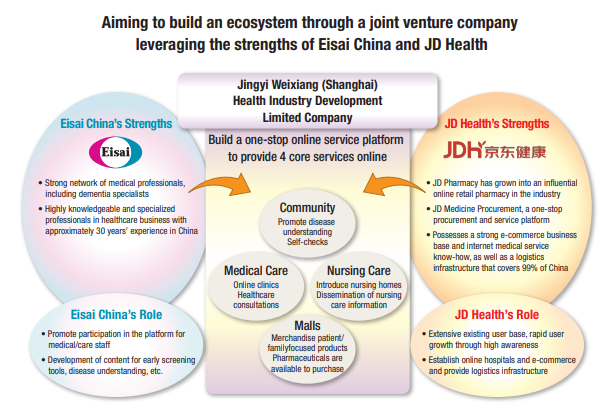 Business expansion in Vietnam, where economic growth has been remarkable


In September 2020, Eisai established a new pharmaceutical sales subsidiary, Eisai Vietnam Co., Ltd. (Eisai Vietnam), in Vietnam, a country with a population of approximately 97.62 million.
The pharmaceutical market in Vietnam is surpassed in size only by those of Thailand and the Philippines within the Association of South East Asian Nations (ASEAN), and the Vietnamese pharmaceutical market has maintained double-digit growth for over five years. Also, it is expected that the Vietnamese pharmaceutical market will continue to grow strongly due to expansion of the middle-income group based on Vietnam's economic growth and an increase in the number of patients with non-communicable diseases, etc.
Eisai opened a representative office in Vietnam in the early 1990s, and has mainly marketed the proton-pump inhibitor Pariet®, muscle relaxant Myonal®, peripheral neuropathy treatment Methycobal®, and other products through a local agency. Most recently, the antiepileptic drug Fycompa® was launched in October 2019, and the anticancer agent Lenvima® was also launched in September 2020. With the establishment of Eisai Vietnam, Eisai aims to enhance its own drug sales system in Vietnam, deliver innovative new drugs to more patients in Vietnam, and contribute to enhancing the benefits to patients and their families.